Ultrasonic Curtain Cleaning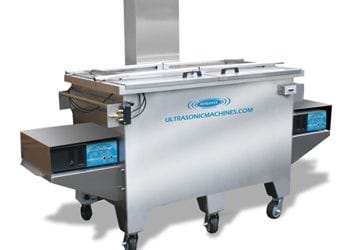 Kleena uses a unique system to clean and recondition your window furnishings. The system is called Ultrasonic's. Ultrasonic cleaning is one of the most thorough cleaning processes known. It is so thorough it is used in sanitising processes for many industries including hospitals, dental and medical clinics. High frequency sound waves produce hundreds of thousands of high energy bubbles in water that implode and literally suck all the traces of dirt and grime from the blinds. Nothing is missed. The simple fact is, it's the best cleaning process available.
Ultrasonics is the only process that can remove nicotine stains, mould and other heavy staining and rejuvenates tired blinds and curtains. The Kleena Blinds and Curtains system can prolong the life of your blinds - creating a healthier work and living environment while at the same time saving you money.
For those of us concerned about the environment and the future of our planet, you will be pleased to know that cleaning with Ultrasonic's eliminates the need to use harsh chemicals and also minimises the use of water. For more information on the Ultrasonics processes and Ultrasonics equipment visit www.ultrasonicmachines.com.